Bulgaria, Greece could revive 1990s pipeline project – this time without Russia
Reading Time:
2
minutes
A memorandum of understanding (MOU) for the oil pipeline project between Alexandroupolis, east Greece, and Burgas, east Bulgaria, will be signed very soon, Armenian state news agency Armenpress reported Bulgarian Energy Minister Rosen Hristov as saying on Saturday.
"The energy crisis in Europe," Hristov said, "calls for even closer cooperation and joint efforts between Bulgaria and Greece. We are partnering in many projects and policies. Greece is a partner of Bulgaria because of its location and the shared views on how to develop energy in the region," he added. He noted the bilateral cooperation would follow EU policy for securing the European natural gas market.
Hristov was in Greece to attend the inauguration of a gas-fired power plant in Alexandroupolis, where he met Greek Energy Minister Kostas Skrekas for talks, and Greek Prime Minister Kyriakos Mitsotakis.
Energy crisis promoted rethink
The proposed pipeline would transport Caspian oil from the Black Sea port of Burgas to the Aegean port of Alexandroupoli, via a route that bypasses the Bosporus and the Dardanelles. Previously the Bulgarian government suspended the project in December 2011 over supply and environmental concerns.
Now that Europe is attempting to end its reliance on Russia energy, Bulgaria and Greece would proceed with the pipeline without involvement from Moscow.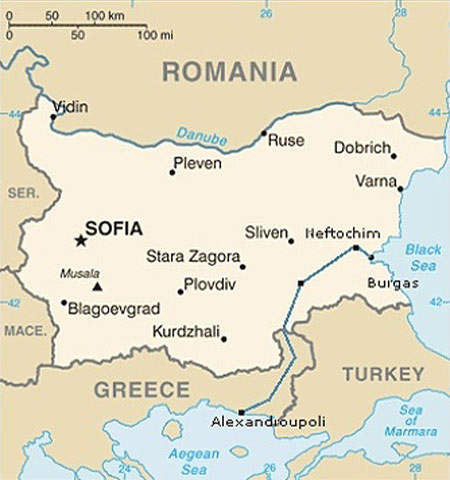 In November 2022, reports emerged that Greece and Bulgaria were considering resurrecting the Burgas-Alexandroupoli oil pipeline project, which companies from the two countries discussed with Russia in the 1990s.
At that time Hristov said Bulgaria was looking for other supply avenues, because the Lukoil refinery in his country had been deprived of crude oil due to a 500% increase in fees for Bosporus and Dardanelles transit.
Bulgaria's caretaker government endorsed two preliminary MOUs with Greece, which will allow the two counters to advance energy cooperation, on 4 January. One of these suggested assessing the viability of the Burgas-Alexandroupoli oil pipeline.