Romania, Hungary sign deal to lay world's longest electricity cable
Reading Time:
4
minutes
Hungary and Romania were among the four signatories of an agreement to construct a 1,100km (685 mile) power line under the Black Sea within three to four years, in Bucharest Saturday. The cable will transit Azeri electricity, mostly from wind and solar energy, from Azerbaijan to the EU, via Romania and Hungary.
The EU is seeking to reduce its dependency on Russian energy, after the country invaded Ukraine on 24 February. The European Commission (EC) has earmarked EUR 2.3bn for the planned power line project.
Azerbaijan state news agency Azertac reported that an "agreement on a strategic partnership in the field of green energy development and transmission" had been signed by the governments of the Republic of Azerbaijan, Georgia, Romania and Hungary. 
In attendance were Romanian Prime Minister Nicolae Ciuca, Romanian President Klaus Iohannis, Hungarian Prime Minister Viktor Orban, Azerbaijani President Ilham Aliyev, Georgian Prime Minister Irakli Garibashvila and European Commission President Ursula von der Leyen.
EU sees progress on decoupling from Russian energy
Von der Leyen said "we have decided to abandon Russian fossil fuel and diversify our options towards reliable partners in the energy field, such as those present at this table – and it is working."
"To integrate a growing share of renewables, we need indeed stronger electricity interconnections. This is why the Black Sea energy cable between Romania, Georgia and Azerbaijan is so important," von der Leyen said, adding that while making Georgia an electricity hub and integrating it into the EU's internal power market, it could also contribute to the reconstruction of war-torn Ukraine's.
The memorandum agreement "is a step towards creating a corridor for green energy," said Azerbaijani President Ilham Aliyev. Azerbaijan produces 27GW wind and solar power and aims to increase this capacity by 4GW by the end of 2027. The project could also include the laying of an optic internet cable between Romania and Georgia.
Linking Caspian Sea windfarms to Europe would also benefit EU applicants Ukraine and Moldova, both of which have seen energy security compromised by Russian bombing of critical infrastructure and unreliable supply. Azerbaijan is now inviting investors for the turbines.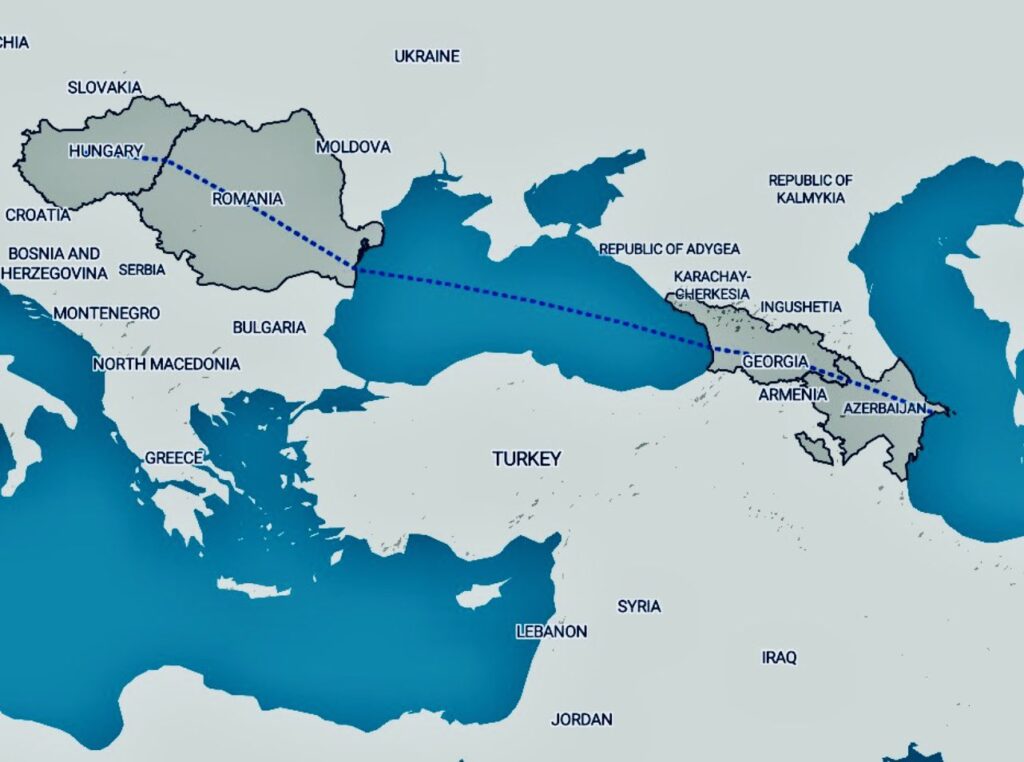 The Office of Romanian President Klaus Iohannis said in a statement on Friday that the deal will provide the "financial and technical framework" for the undersea electricity line.
Iohannis said in a speech Saturday that "given the current security context marked by the military aggression against Ukraine, we need to cooperate better and show more solidarity to mitigate common challenges. Our energy co-operation … will enhance our energy resilience and ensure diversification of supply and transport routes," he added.
The EU is in a "strategic vacuum", Orban said, adding that the leaders of member states need to ensure energy and economic security by identifying and securing new energy sources.
Hungary has consistently argued against EU sanctions against the Kremlin and is currently attempting to reduce its dependence on Russian fossils fuels.
Orban, widely seen as the Kremlin's closest ally in the EU, tweeted that "Instead of decoupling, connectivity is the way out of the energy crisis."
Hungarian Foreign Minister Peter Szijjarto noted that the cable would be 3GW and "break a world record in terms of its length". The World Bank will cover a EUR 2.5mn feasibility study, scheduled to be completed before the end of next year, he said, adding that construction could commence in three to four years.
Azeri premier details country's green energy strategy
Aliyev called the memorandum agreement "an important step in the creation of a green energy corridor".
He called that "this July, during the visit of Madame von der Leyen to Azerbaijan, we signed the memorandum of understanding on strategic partnership in the field of energy between Azerbaijan and the EU, and we have already started to implement this document.
"Last year Azerbaijan's export of natural gas to the EU market was 8.2bn cubic metres, and this year, 11.3bn. Next year it will be at least 11.6bn. The total natural gas export from Azerbaijan next year will be almost 24bn cubic metres. In comparison, in 2021, it was 19bn."
Aliyev explained that Azeri and Romanian state energy companies SOCAR and Romgaz on Friday signed a contract on gas supply from Azerbaijan to Romania, effective 1 January 2023. "So, Azerbaijan is expanding the geography of its gas supplies to the European market. This is a win-win situation. Europe needs to strengthen its energy security. Azerbaijan needs a reliable market for its huge energy resources."
On future energy plans and collaborations, he said "Azerbaijan's renewable energy potential is more than 27GW of wind and solar power onshore and 157GW of wind power in the Azerbaijani sector of the Caspian Sea. Together with one of our country's strategic investors, we plan to implement 3GW of wind and 1GW of solar power by 2027, 80% of which will be exported. By 2037, we plan to create an additional capacity of at least 6GW.
Aliyev noted that one company alone has plans to invest in the creation of 10GW of green energy in Azerbaijan. "On Thursday the Azerbaijan Energy Ministry signed a framework agreement with another global energy company. This company is planning to invest in the creation of up to 12GW of wind and solar energy in Azerbaijan. So, at least 3GW of additional transmission capacity should be created for the first phase of Azerbaijani export," he added.
However local sector experts told Hungarian website Telex that rather than bringing energy diversification, the deal could merely transfer dependence from Russia to Azerbaijan, which is located in a region often destabilised by conflict.