Green groups urge energy reform as gas crisis upends coal phase-out
Reading Time:
2
minutes
Soaring natural gas prices last year disrupted the long-term trend of renewable energies and gas replacing coal in Europe, according to a report by the think-tank Ember released today. "Legislation is the only way to guarantee that coal plants are closed by 2030; volatile gas prices have made it clear that you cannot rely on market forces alone," Charles Moore of carbon-market-reform advocate Ember told media.
The EU has set a goal of net-zero CO2 emissions by 2050, and phasing out coal, the fossil fuel with the biggest carbon footprint, is a major part of that plan. Renewable energies – especially wind, hydro and more recently solar power – as well as natural gas have replaced much of the energy earlier provided by burning coal.
From 2011-19, renewables predominantly displaced coal: the former increasing by 42% while the latter went down by 34% in that period, Ember notes in the report entitled "European Electricity Review 2022 – Gas Crisis Interrupts EU Coal Exit".
However as Europe experienced gas price rises of up to 585% in the second half of 2021, the cost of gas increased seven-fold, making it less competitive than other sources. As Ember notes, from 2019-21 renewables predominantly replaced natural gas, whereas from 2011-19 they replaced coal.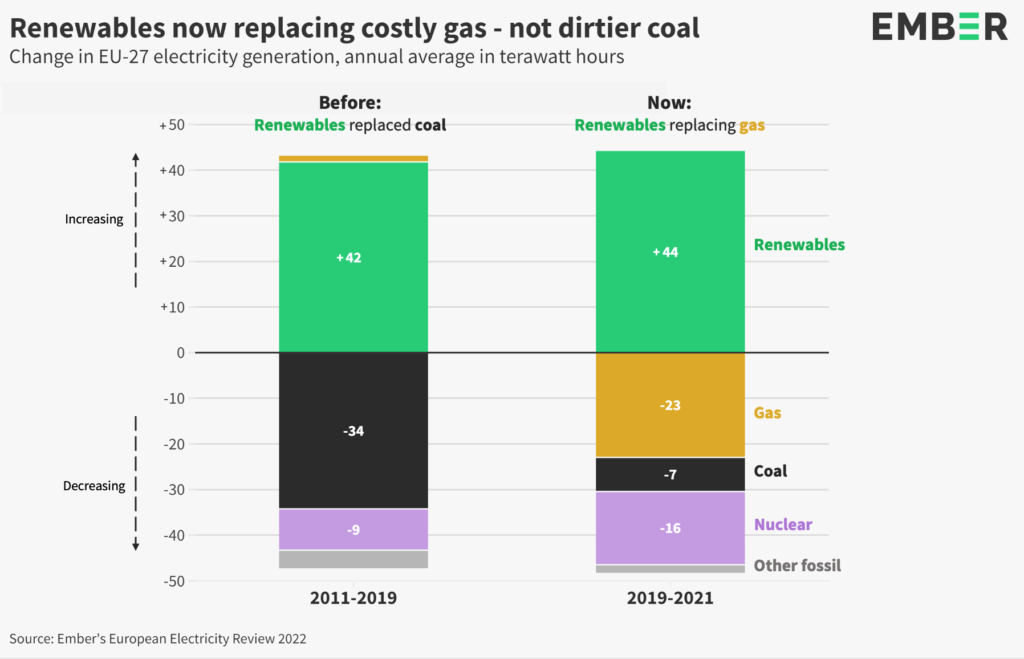 ​​Since 2019, coal usage to generate power actually increased by 7% in Poland. More than two-thirds of the country's energy comes from the fossil fuel, and the country has been reluctant to phase it out, even stepping back from a commitment to cutting coal power by 2030 briefly announced at the COP26 climate conference in November.
In an attempt to cushion the inevitable economic hit of decarbonisation, the EU last June launched the "Just Transition Fund", which will distribute EUR 17.5 billion amongst energy industry workers retraining for green-sector jobs. Given the magnitude of its coal industry, Poland is likely to be Central and Eastern Europe's biggest recipient.
Meanwhile, high gas prices are expected to drive down demand for it by 4.5% in Europe this year, according to an International Energy Agency (IEA) report released Monday. "Gas-fired power generation is expected to decline amid the strong expansion of renewables, while high gas prices continue to weigh on its competitiveness vis-à-vis coal-fired generation," the IEA wrote.
A third report found that 19,000 deaths could be linked to coal-power plant-related air pollution in the Western Balkans in the last three years. Coal plants in those countries breach air pollution laws, according to CEE Bankwatch Network and Centre for Research on Energy and Clean Air joint report released last September.
Source: Ember, Euractiv, Reuters