Rail Baltica: no disruptions for Latvia, Lithuania – but Estonia changes timetable
Reading Time:
3
minutes
It has been hailed in the Baltic countries of Estonia, Latvia and Lithuania as their most ambitious shared project for a century. Rail Baltica – a EUR 5.8 billion high-speed railway between Helsinki and Warsaw – was originally planned for completion in 2026. However the north-east-Europe-spanning rail-link between the Finnish and Polish capitals has hit the buffers after Estonia announced that it is struggling to meet the deadline. Lithuania and Latvia are more optimistic about completing their stretch on schedule, however. The EU is financing 85% of the Rail Baltica project – which will stop at 16 stations in Latvia, 12 in Estonia, and 11 in Lithuania – while the Baltic countries will each around cover 5%. According to an agreement signed in 2018, the three EU member states will contribute EUR 824 million towards the 870-km Baltic section, shared between Latvia (EUR 303 million), Lithuania (EUR 286 million) and Estonia (EUR 235 million).
As Latvia presently uses trains from the Soviet era – unlike Estonia and Lithuania – Rail Baltica will revolutionise travel times as passenger trains reach maximum speeds of 249 km/h, and freight trains 120 km/h. The railway will also produce less pollution, both regarding emissions and noise.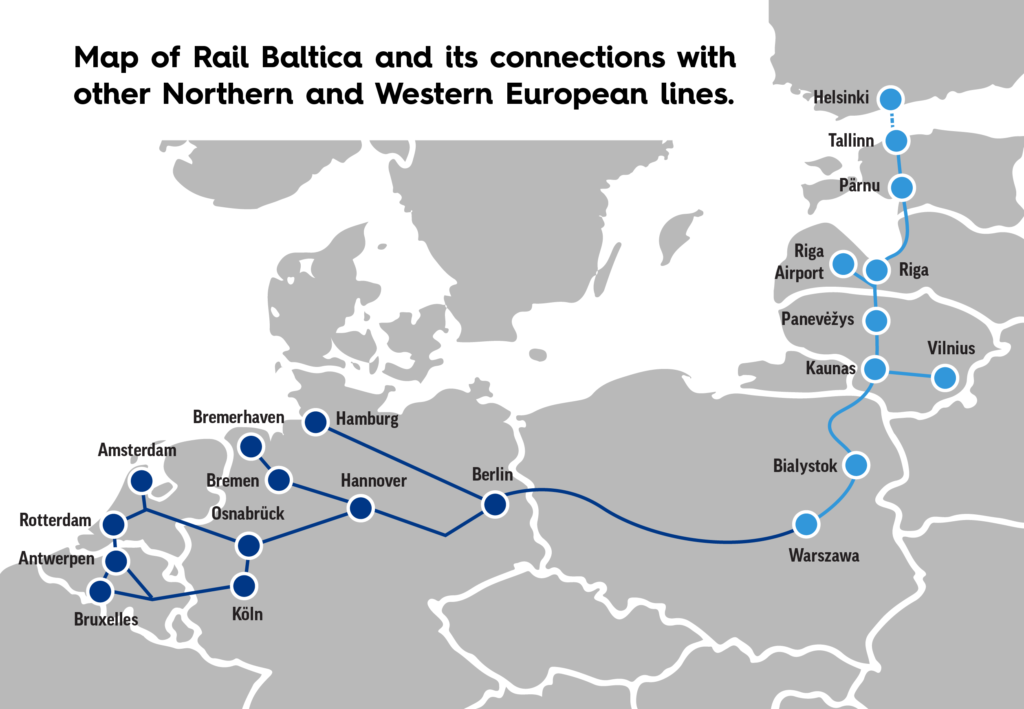 2026 – too soon and too expensive?
Last month Estonian project chairman Tonu Grunberg called 2030 a more realistic deadline than 2026, citing planning, financing and engineering issues. One issue for Estonia is a lack of clarity on the stretch from its southern region to its border with Latvia, after Estonia's Supreme Court rejected the original plan, delaying work by a year. Rising construction prices are another factor, particularly regarding wildlife crossings and viaducts. Grunberg said meeting the original 2026 deadline for completion of Rail Baltica during a period of rising global prices could also negatively impact the Estonian economy.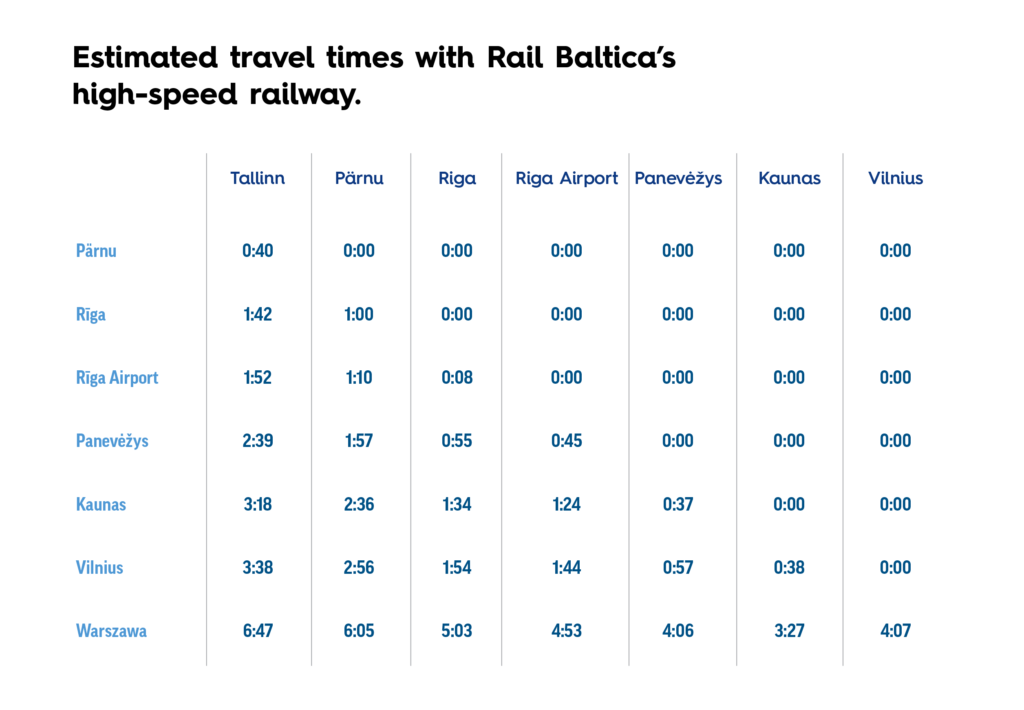 Latvians, Lithuanians on schedule
Unlike Estonia, Lithuania and Latvia remain keen to complete the project by 2026. Lithuania has already acquired development rights between its second city of Kaunas and the border with Latvia, while the leading architecture firm Zaha Hadid Architects will revamp the railway station in capital Vilnius. New infrastructure is also afoot: a public bridge will connect the old town to both its city centre and Vilnius's southern districts.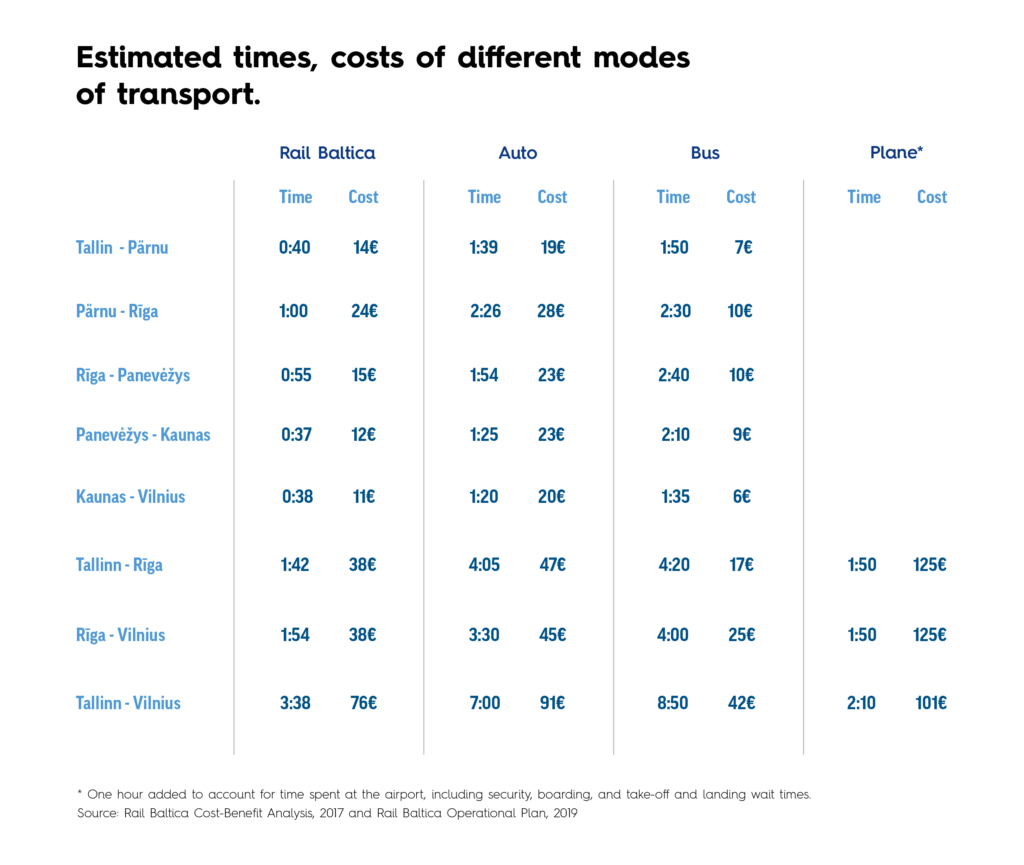 Meanwhile in downtown Riga – Latvia's capital – massive construction work on a rail passenger terminal has already begun. Meanwhile a rail-link to the international airport is also planned, along with bridges and wildlife crossings on the city's outskirts.
Despite the large amount of work ahead, Lithuania and Latvia remain committed to completing construction by December 2026. Lithuanian presidential advisor Jaroslav Neverovic has said 2026 remains achievable if finances are managed efficiently. This means that Lithuania – the most southerly of the Baltic states – may yet have a high-speed rail-link to Warsaw by 2026.
Meanwhile Latvian Transport Minister Talis Linkaits has underlined that any completed rail stretches in Latvia will be put into operation as soon as is feasible. The first stretches could be finished by the end of 2026, Linkaits said, adding that Rail Baltica services to Lithuania could commence in 2027, with services from Riga the priority. Given Estonia's issues, its own rail sections may take a little longer. On its final completion, according to Ernst&Young, Rail Baltica will generate socio-economic benefits of over EUR 16 billion.
Sources: www.lsm.lv , www.eng.lsm.lv, www.railbaltica.org, www.bnn-news.com , www.globalconstructionreview.com, www.news.err.ee