Slovakia's Flying Car Takes Flight
Reading Time:
2
minutes
In Slovakia, a prototype flying car has completed a 35-minute flight between the country's international airports in Nitra and Bratislava. The hybrid car-aircraft, AirCar, is equipped with a BMW engine and runs on regular petrol. Its creator, professor Stefan Klein, said it could fly about 1,000km, at a height of 2,500m, and had clocked up 40 hours in the air so far.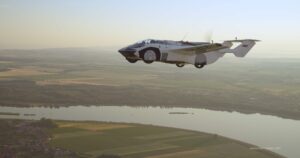 The AirCar takes two minutes and 15 seconds to transform from a car into aircraft. In the air, the vehicle reached a cruising speed of 170km/h. It can carry two people, with a combined weight limit of 200kg. But unlike drone-taxi prototypes, it cannot take off and land vertically and requires a runway.
The company behind AirCar, Klein Vision, says the prototype has taken about two years to develop and whose investment cost was "less than EUR 2m."
Anton Zajac, an adviser and investor in Klein Vision, said if the company could attract even a small percentage of global airline or taxi sales, it would be hugely successful. "There are about 40,000 orders of aircraft in the United States alone," he explained. "And if we convert 5% of those, to change the aircraft for the flying car – we have a huge market."
There are high expectations for the nascent market in flying cars. In 2019, consulting firm Morgan Stanley predicted the sector could be worth EUR 1.25 trillion by 2040. And at a recent industry event, Hyundai Motors Europe chief executive Michael Cole called the concept "part of our future."