Romanians Most Keen to Adopt Euros
Reading Time:
2
minutes
According to a new Flash Eurobarometer Romanian citizens are most eager to join the eurozone. The survey polled people in 7 EU countries where there is no euro yet. The results show that 75 per cent of Romanian respondents want to switch their Leu to Euros up from 63 per cent last year. The Flesh Barometer concludes that Romanians are followed by Hungarians with 69 per cent, Croatians with 61 per cent and Bulgarians with 54 per cent wishing to replace their national currency with euros.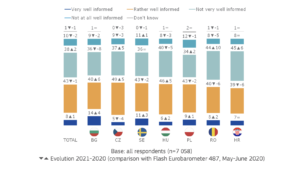 60 per cent of EU citizens surveyed in non-euro area member states think the euro has had positive consequences for the countries of the euro area. 52 per cent of respondents are not only more positive about the consequences that the introduction of the euro would have for their country, but 55 per cent say that the euro's introduction would bring them personal benefits too. On the flip side, a majority of the responders in each country think introducing the euro will increase prices and are concerned about abusive price-setting during the changeover.
Source: European Commission