Ambitious Hungarian Biotech Firm Fights Cancer With AI
Reading Time:
4
minutes
"Turbine," a biotech company simulating cell behavior with artificial intelligence, is combining two disciplines for which the country is renowned: biology and IT. Hungary's first ever Nobel-prize winner was Albert Szent-Györgyi, a biochemist who invented vitamin C. Hungarian mathematician János Neumann is regarded as the father of computers. Can Turbine pull together such scientific traditions to repeat their global success stories?
The company's story began in a university lab at Semmelweis Medical School in Budapest, back in 2010, when Kristóf Szalay, a computer scientist-turned biochemist, met with Daniel Veres; both were doctors working on their PhDs. They teamed up on a project to figure out how proteins are connected to each other and how such networks can be simulated using artificial intelligence. Later, they were joined by Szabolcs Nagy, a former head of marketing from a leading technology start-up, to form a powerhouse company, Turbine, which is one of the rising stars of the Hungarian start-up community.
"When we first met, we had a very funny conversation; I didn't understand a single word of it," Nagy admitted in a Forbes interview, having no background in biology or biochemistry.
But then things happened relatively fast. By 2013, the small company had a patent for a special software platform, developed by Kristóf Szalay, called "Simulated Cell," which can help – among others things – understand the working mechanisms of tumour cells and, in the longer run, help design drugs to fight successfully against the disease.
Turbine's approach is based on simulations carried out by complex computer programs, to narrow down the possibilities for drug companies experimenting with new drugs and, consequently, reduce the exorbitant costs of drug trials. Usually it takes about 12 years and USD 1.5 billion to develop one drug for one kind of cancer type. Turbine speeds up the process by performing most of the trial and error part via computer. The company's approach is also about inventing more effective, longer-lasting and personalized treatment for patients.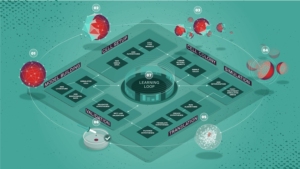 Having a solid academic background from renowned Hungarian universities, the young founders of Turbine ventured out into international waters in 2016 with their "technology-meets-biology" approach.
Turbine was selected to participate in Bayer's start-up accelerator program out of more than 400 international competitors from 66 countries. In the 100 days of the intense and professionally assisted program, Turbine acquired a deeper knowledge of how pharma companies work and where their special know-how is most needed – and how Turbine can benefit from cooperation with global firms.
Since 2017, capitalizing on their previous relationship, Turbine has been contracted by Bayer for several projects, earning the Hungarian company hundreds of thousands of euros. This seemed like a lot of money for a small start-up employing 18 people, but success has increased their appetite. They have subsequently worked with Pfizer, Roche and Johnson Johnson, which also named them one of the top AI start-ups in drug discovery, and in 2017, they won the Best Biotech Start-up, Best AI Start-up and Start-up of the Year awards at Central European Start-up Awards. At that time, two of the founders, Dániel Veres and Szabolcs Nagy, were still under 30, while the third, Kristóf Szalay, had barely reached 35.
Still, they have bigger ambitions than being a long-term collaborators with large pharma companies: they want to become one of them. Since 2018, Turbine has been actively working on securing seed money and venture capital to finance their simulations and subsequent lab research, which could eventually lead to coming up with their first drug. In 2019, Turbine secured USD 3 million in an institutional financing round led by computational biology venture fund Delin Ventures.
In 2021, while everyone was complaining about how Covid-19 had cut contacts and frozen business activities in many sectors, Turbine actually managed to raise EUR 5.7 million, bringing on board new investors like Accel and XTX Ventures with Boston Millenia Partners. As the company's young leaders admitted in an interview, they aimed for EUR 3 million but could not resist the generous offer of almost twice the amount. The company now employs over 50 people from a variety of backgrounds, ranging for computer science, biology, biotech, and pharma development, and is still based in Budapest.
They still call the EUR 5.7 million seed money, which is helping Turbine shift its focus. "We are a biotech company built on an AI platform, but are increasingly concentrating on drug development. The next round of raising money will be about getting our drug candidate into a clinical testing phase, almost ready to be tested on humans," Turbine CEO Szabolcs Nagy commented in a Forbes article. While they did not plan to focus upon lab-based pharma trials, that's where the future lies for Turbine. "The only way to maximize the value of the company is to take our ideas all the way up to clinical research," Nagy concluded. article.  This was not a natural development but more like a learning process, but it seems this is where the future lies for Turbine. "The only way to maximize the value of the company is to take our ideas all the way up to clinical research," Nagy concluded.
As a typical feature of post-millennial start-ups, Turbine is also thinking in global terms. Capitalizing on the solid background provided in natural sciences and IT by Hungarian universities, and a lower cost business environment in Budapest, they are flexible and agile enough to reach out for global know-how and capital, where needed. Lately, they have managed to hire some big name international pharma experts as members of the Scientific Advisory Board to help them develop a next-generation precision medicine against tumor tissue and guide the company on its path to becoming a successful drug discovery company.